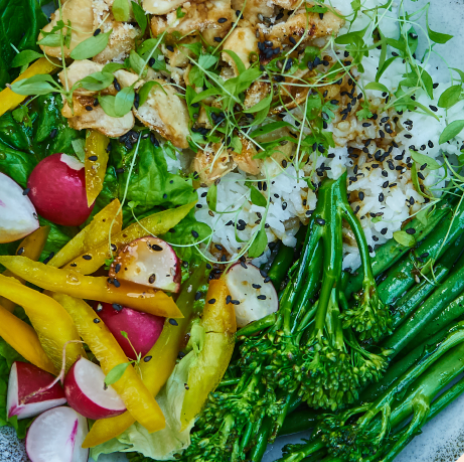 NOJO RICE BOWL
Serves 2 people
Ingredients:
100ml Nojo Teriyaki Sauce (or more to your taste)
200g rice (uncooked weight)
1 tin butter beans, drained and rinsed
handful of green beans, washed and ends cut off
handful of tenderstem broccoli, washed
handful of radishes, washed and halved
½ yellow pepper, washed and sliced
a few lettuce leaves, washed
1 tbsp black sesame seeds
Method:
Preheat the oven to 200ºC.
Mix the butter beans with 2 tbsp of Nojo Teriyaki Sauce, and place on a medium baking tray lined with greaseproof paper.  Cook in the oven for 20 minutes.
Cook the rice as per the packet instructions.
Heat up some olive oil in a pan, and saute the broccoli and green beans for a few minutes.
Then put together your rice bowl by adding a base of rice, topped with the sauteed greens, the lettuce, pepper and radishes, along with the Teriyaki baked butter beans.
Pour a generous amount of Teriyaki Sauce over the top of the bowl, to taste, then sprinkle with black sesame seeds, and enjoy!