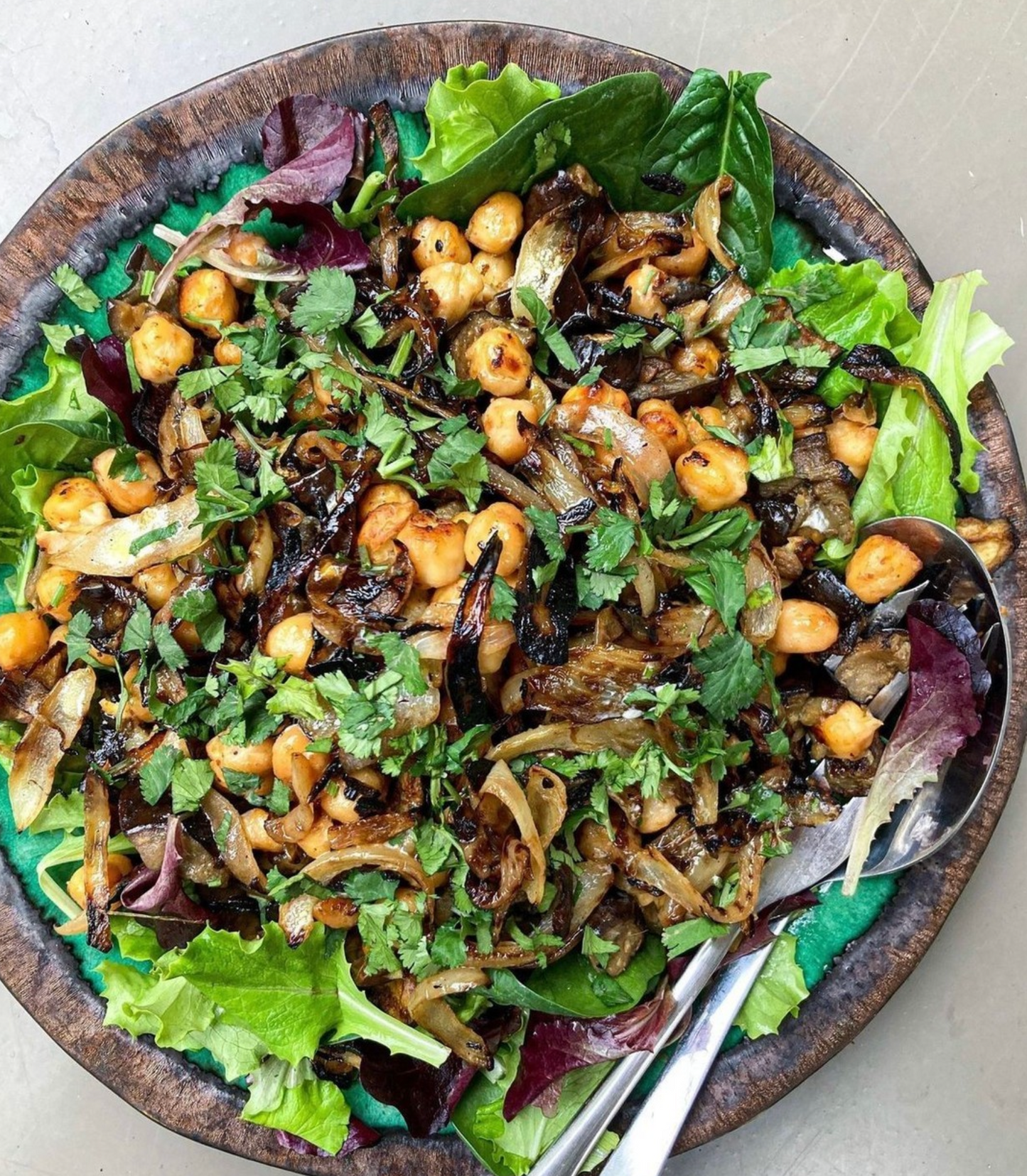 Overview:
Serves: 2
Prep time: 5 min
Cooking time: 25 min
Total Time: 30 min
Ingredients:
We teamed up with our friends at Bold Bean to create this super hearty salad, we roasted aubergine chunks in Nojo's white miso sauce + threw in Queen Chickpeas at the very end just to crisp 'em up. Topped off with some crispy onions for that added crunch + finished with a drizzle of lemony yogurt.
Ingredients (serves 2)
1 x 660g jar Bold Bean Co. Queen Chickpeas
2 aubergines
2tbsp Nojo London White Miso Sauce
1 white onion
1 bag of mixed salad leaves
A small bunch of fresh coriander
For the lemony, yoghurt dressing:
2-3tbsp greek yoghurt
½ lemon juice
Salt + pepper
Method:
1.Preheat the oven to 180C.
2.Roughly chop the aubergines into chunks and peel and slice the onion into thin strips.
3.Place the diced aubergines into a large roasting tin along with a good drizzle of olive oil, salt & pepper and toss to combine. Roast for 20 minutes.
4.Meanwhile, heat olive oil in a frying pan at a medium heat. Add the sliced onion and fry for several minutes until they start to crisp and caramelise, tossing frequently.
5.Once the 20 minutes is up, remove the aubergine from the oven and set aside.
6.Drain the chickpeas and pour these into the roasting tin with the aubergine. Pour in the miso paste and toss to coat. Place back in the oven for another 10 minutes to allow the chickpeas to get crispy.
7.Meanwhile, start to plate up the salad leaves and roughly chop the coriander. Make the yogurt by simply mixing the yogurt and lemon juice together in a small bowl with a dash of water to loosen. Add a pinch of salt to taste.
8.Once cooked, remove the aubergine + chickpea mix from the oven and set aside. Take the onions off the heat once crispy.
9.Plate up the salad leaves and pour over the aubergines and chickpeas. Spoon over those crispys onions and sprinkle with the fresh coriander. Finish with a drizzle of the lemony yogurt for a touch of freshness.