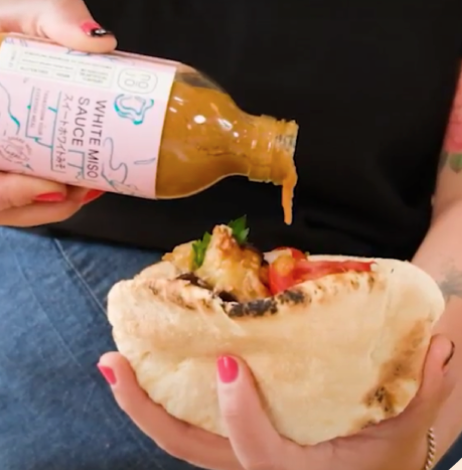 NOJO MISO AUBERGINES AND CAULIFLOWER POCKETS
MAKES 2 PORTIONS 
Ingredients
1 large aubergine (eggplant)
I small cauliflower head
Olive oil salt and pepper to taste
Pitta Breads 
FOR THE TOPPINGS
Fresh herbs
Tomatoes
Fresh lettuce
More nojo Miso drizzle
Preheat the oven to 220°C  Line a baking pan with baking
parchment.
To hedgehog the aubergine, cut it in half lengthways. Cut the flesh of each
half lengthwise into quarters without cutting through the skin. Then make

6–8 cuts across the flesh to divide the flesh into chunks. Clean and chop the cauliflower into florets (keep the leaves for cooking too) Put the aubergine 

and cauliflower in the prepared pan. Drizzle a bit of olive oil and salt and pepper to taste.

Add the Nojo Miso sauce on top and make sure it goes into the hedgehogged aubergine and cauliflower.
Toss and add to the baking pan. Pop in the oven for 20–25 minutes until
Everything is golden brown. The veggies should be nice and charred and should be slightly crunchy and veggies brown and soft. Once done, serve flatbreads, tomatoes, lettuce and more nojo!