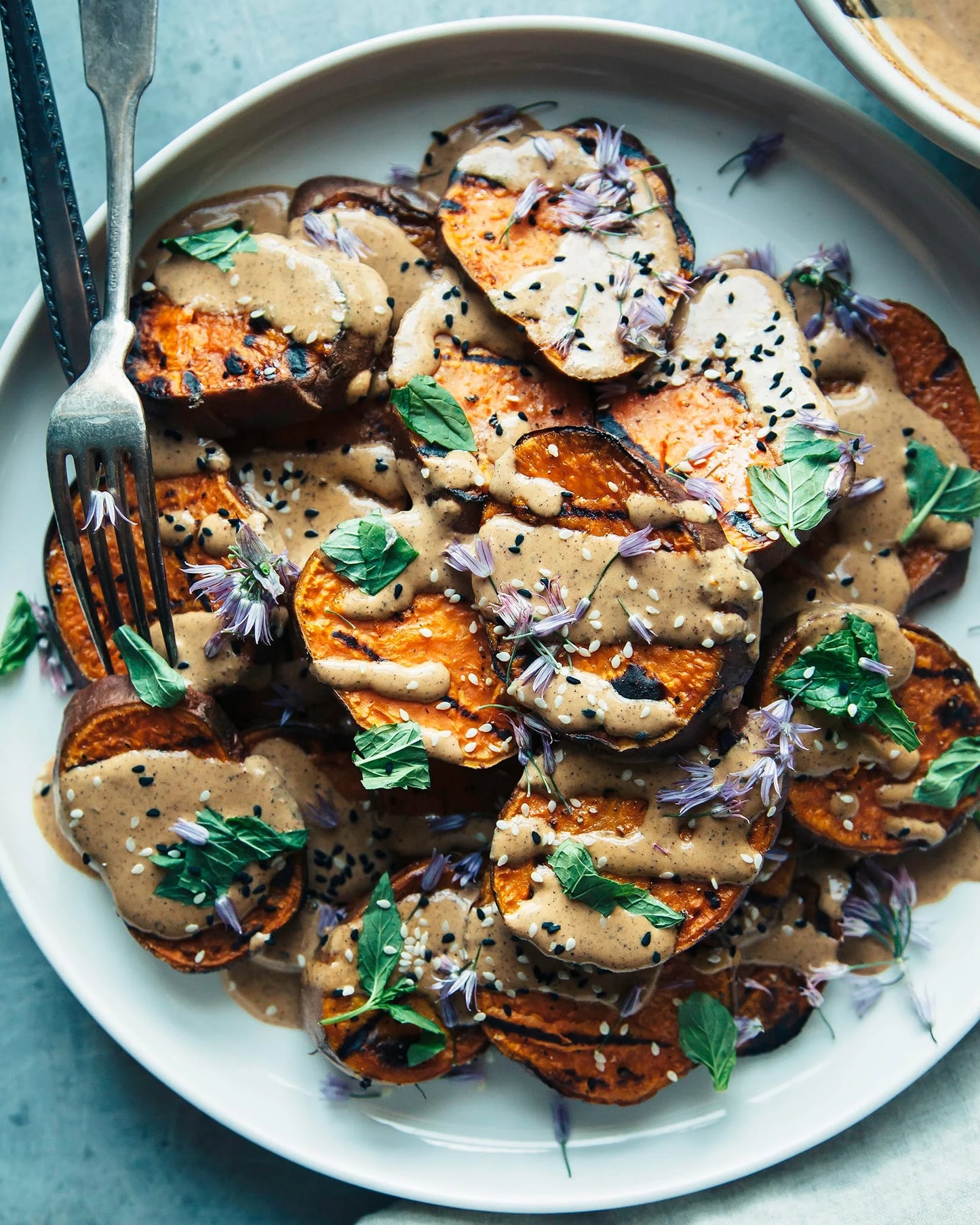 Prep: 15 Mins Cook Time: 20 Mins Total Time: 35 Mins Servings: 6
Author: The First Mess
Ingredients:
¼

cup Noj

ō Tahini Sauce

sea salt, to taste

¼

cup

ice water, plus extra
GRILLED SWEET POTATOES:
2

lbs

sweet potatoes, scrubbed

oil spray of your choosing 

sea salt and ground black pepper, to taste

Any garnishes you like: chopped herbs, sliced fresh chiles, chopped toasted nuts/seeds
Notes
Spray oil is preferable here in terms of ease and efficiency, but if you don't have any, simply pour your oil of choice into a small bowl and brush it over the slices of par-boiled sweet potato.

Leaving the skin on the sweet potatoes helps the slices hold their shape on the gril (and adds a little extra fiber to your life, yay)
Instructions
Slice the sweet potatoes crosswise into ½ inch thick slices. Place the sweet potato slices in a large pot and cover with water. Put a lid on the pot and bring the sweet potatoes to a boil. Let the sweet potatoes boil until they yield to the prick of a paring knife with minimal pressure, about 4 minutes.

Drain the sweet potatoes and allow them to dry off a bit. Preheat your grill to high.

Lay the par-boiled sweet potato slices out on a baking sheet in a single layer. Spray the sweet potatoes with your oil spray and season them with salt and pepper. Flip the slices over and repeat with the other side.

Grill the sweet potatoes until char marks appear, about 4 minutes per side. Transfer the grilled sweet potatoes to a serving platter. Drizzle the Noj

ō T

ahini sauce over top and garnish with fresh herbs, sliced chiles, toasted nuts/seeds etc! Enjoy immediately!